Curved Curtains
100% custom made in Australia.
Our cutoff dates are rapidly approaching. Order today for pre-Christmas delivery.
from $633
Our designer curtains just got curvier
Our curved curtain tracks add major designer appeal to corner windows and walls.
Making an impact
A curved track screams designer cool and looks incredible in any corner window with a 90 degree angle.
Quality curtains that last longer
All DIY curved curtains come with a 5 year warranty, giving you peace of mind for years to come.
Corner windows look irresistible with curved curtains
Curved curtains are sleek, sophisticated and totally glam. Choose between one or two bends, and have your curved tracks fit inside or wrap around your corners.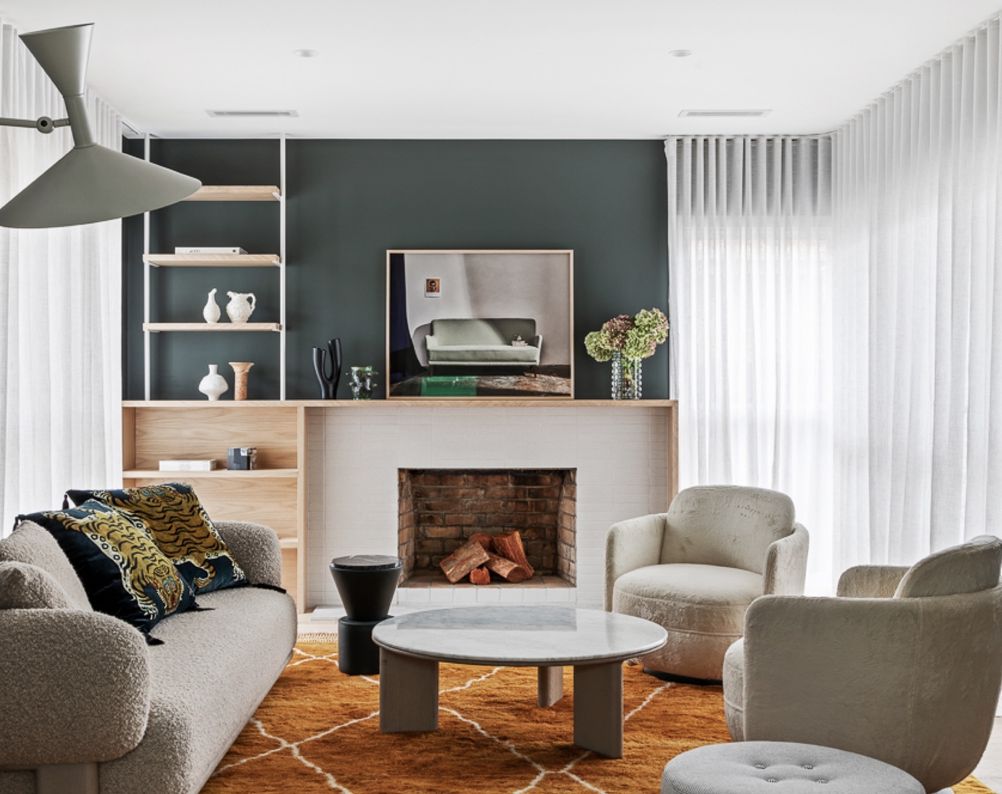 Fit inside or wrap around your corners
Our curved tracks are made to fit perfectly into 90 degree corners. They also look amazing wrapped around 90 degree corners.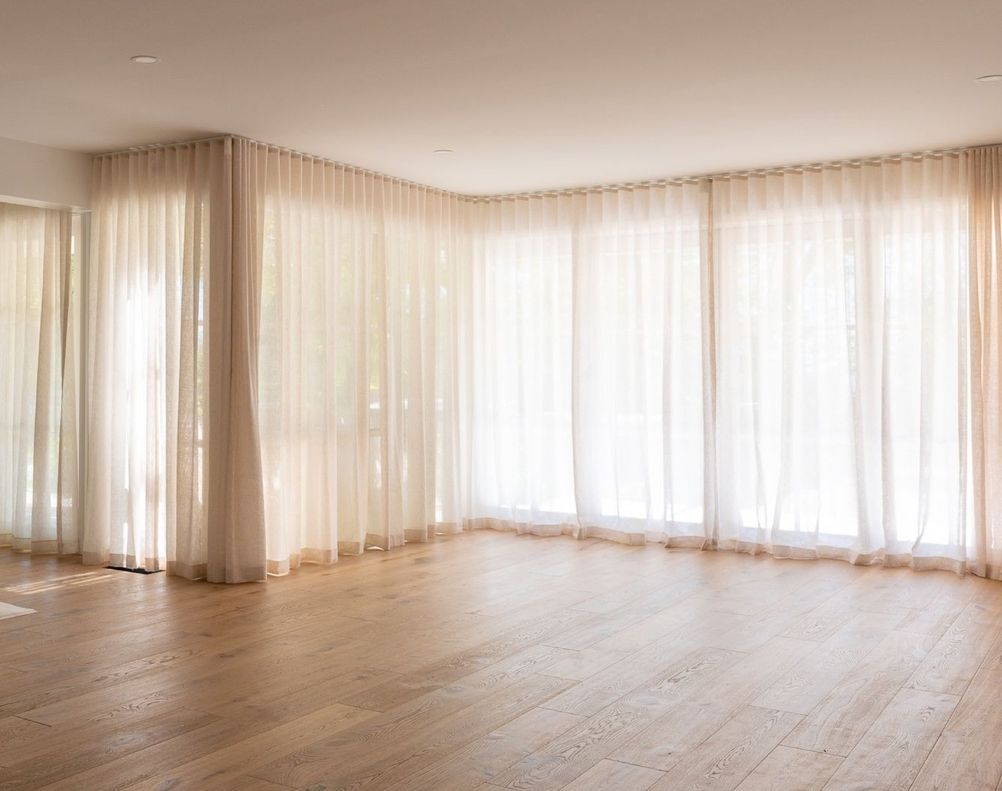 Have multiple corners?
You can order tracks with up to 2 bends online or call us to order a track with more than 2 bends.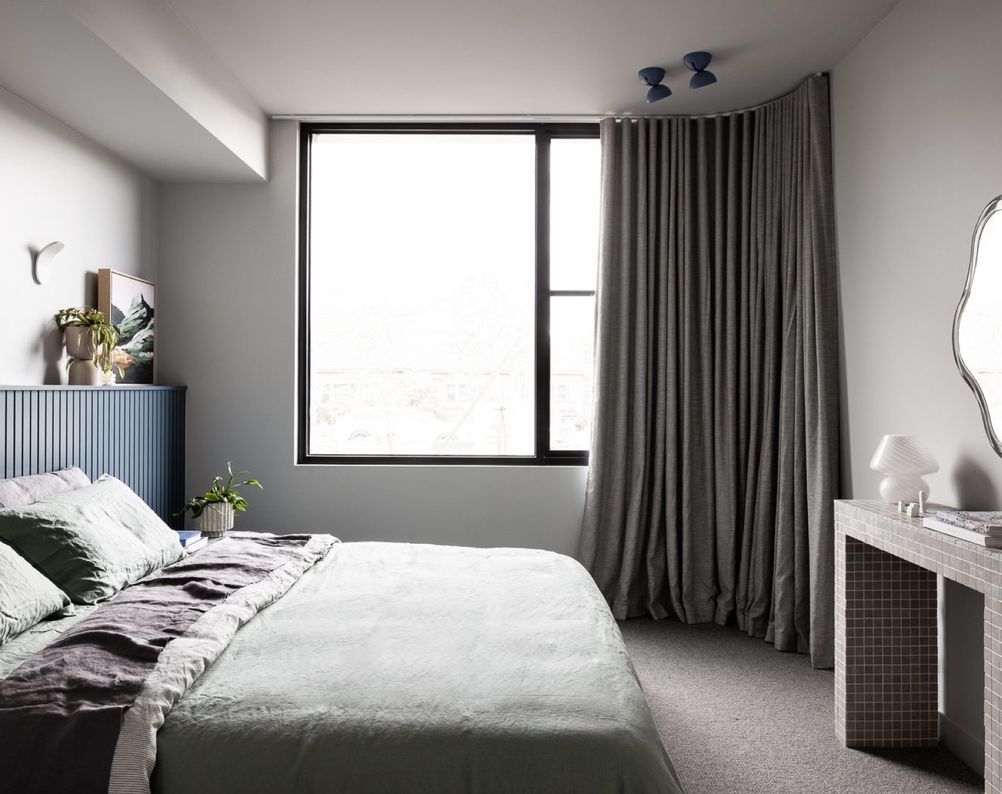 Ultra-glam look
For an ultra-glam look pair a curved track with an S fold and go for a dramatic ceiling mount.
Curved curtains helped us achieve the bespoke finish we wanted.
No skimping on fabric
We know Aussie made means superior craftsmanship. We use more fabric per square metre than our competitors, to achieve a full and sumptuous look. Have peace of mind for years to come with a 5 year warranty on all materials, mechanisms and components of your curtains.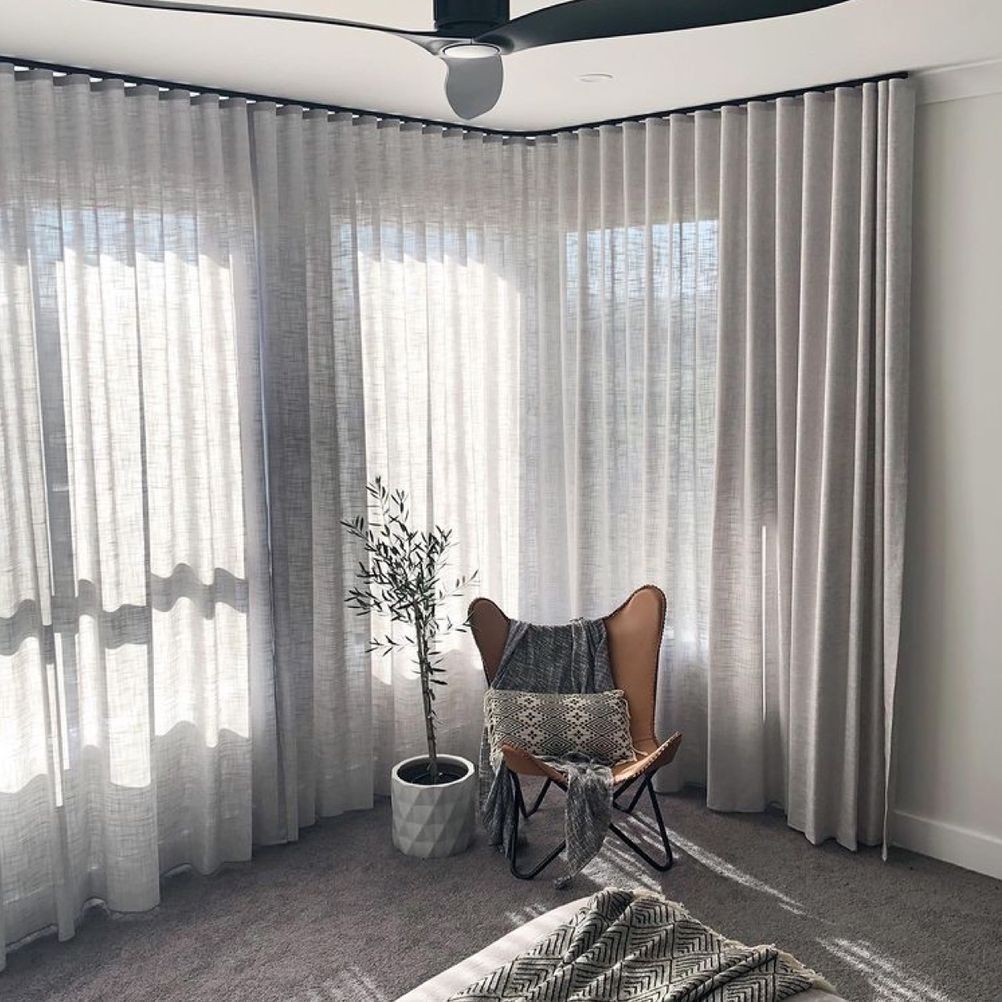 Our curved curtains have 2.2 metres of fabric for every metre of track, which makes them look so plush.
Find your perfect finish
We've got plenty of tips and tricks up our sleeve, to help you pick the ideal fit. Getting it right creates a sense of space and celebrates the architectural features in your home.
Get touchy feely with our fabrics
Choose your free vertical blind samples online, and we'll express deliver them to your door.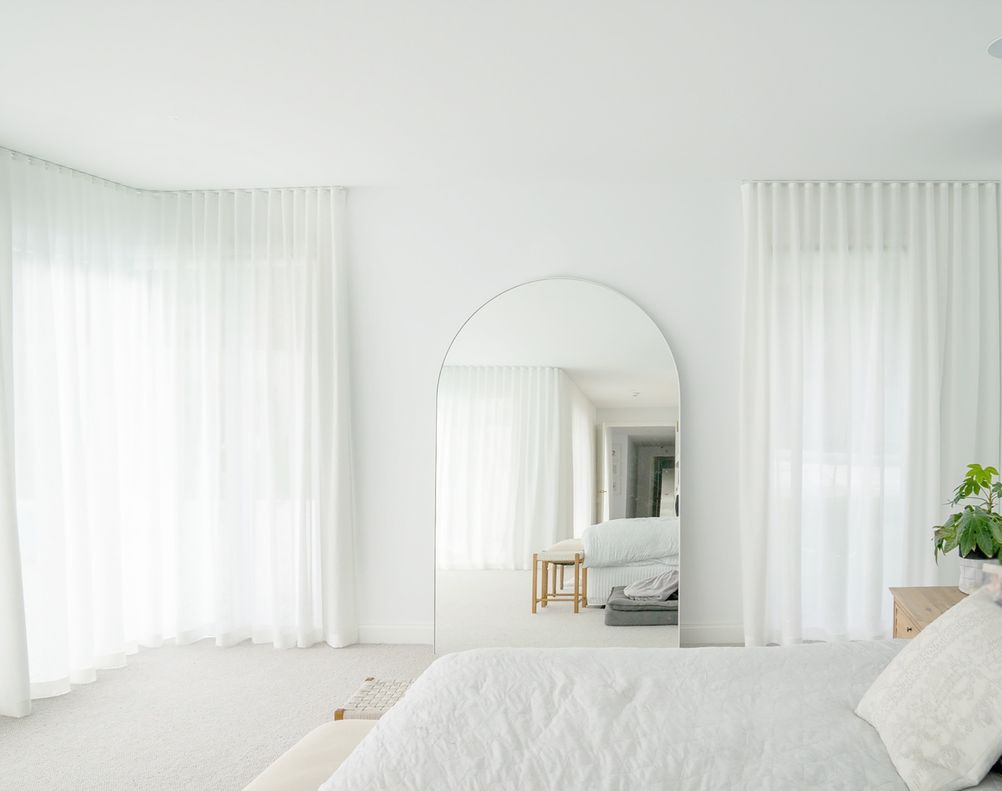 Customise your curved curtains
Add wow factor to your curtains with custom bends. You can add 2 bends online, or call us to order a track with more than 2 bends.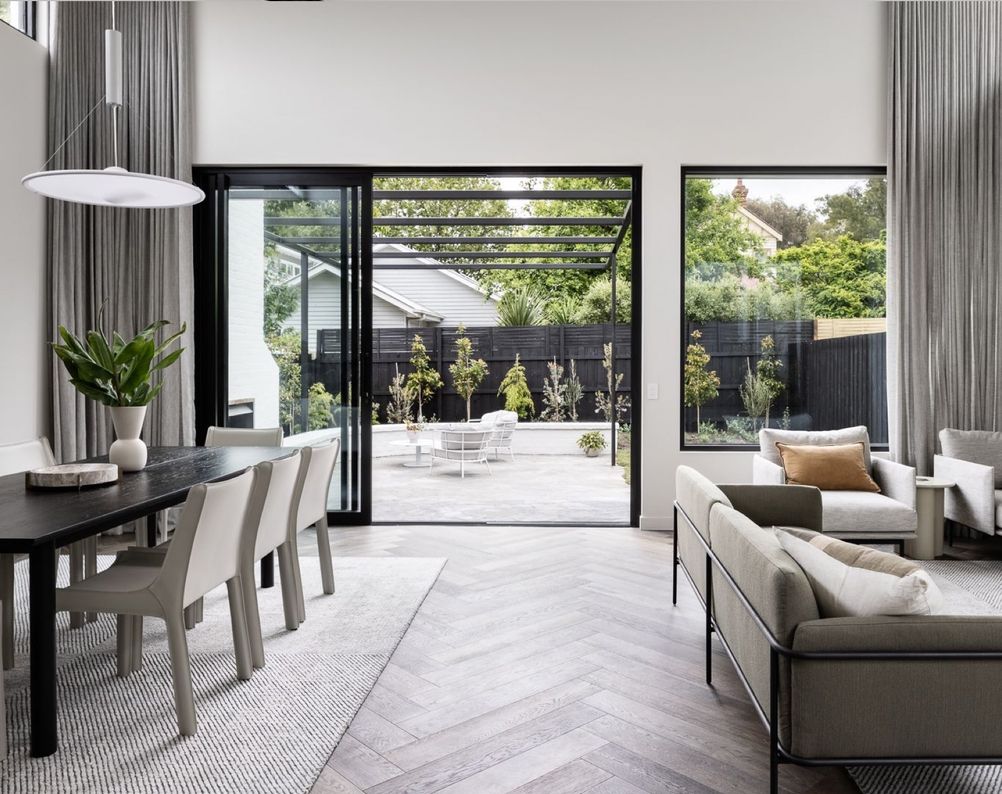 Maintain your view
Use curved curtains to maintain your view with wall to wall windows.
Curved curtains reflect the home's mid century vibes and complement our luxurious internal finishes.
DIY install or we can do it for you
Our curved curtains are easy to measure and install yourself with our helpful guides, however if you can't DIY we can professionally install them for you!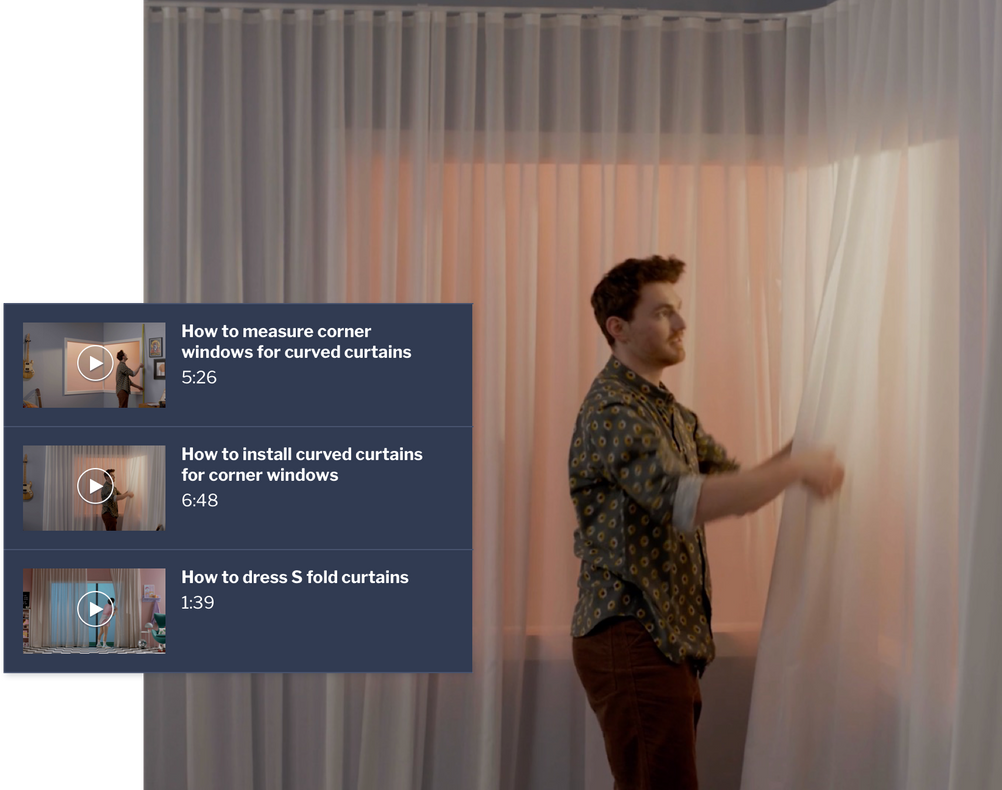 It's easy to DIY Install with our helpful guides
Our easy to use guides and videos will help you with every step of the DIY process from tips, measuring and installing and technical information about our products.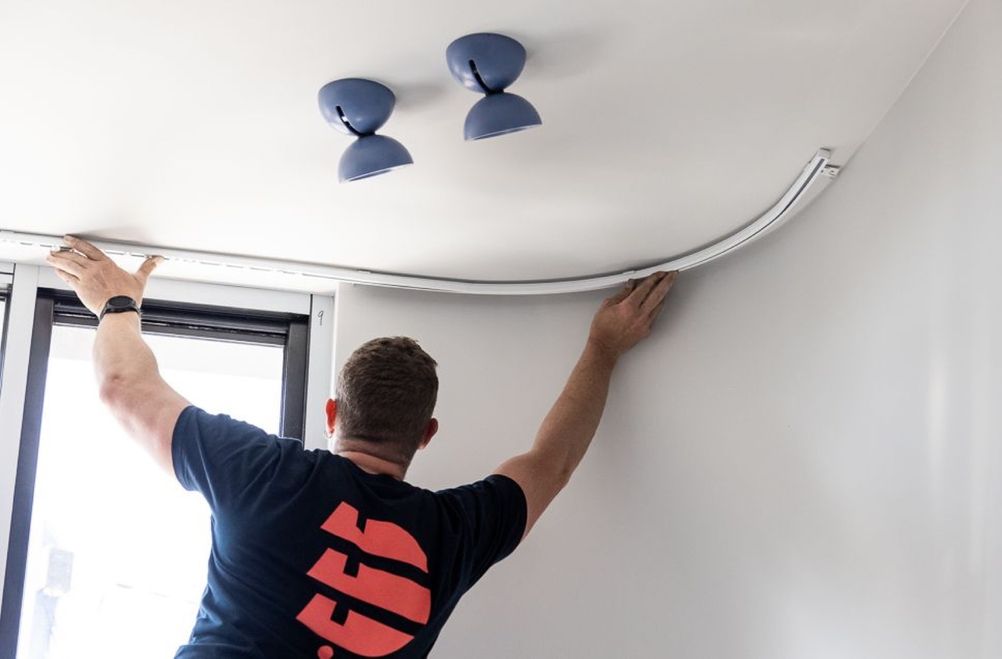 Can't DIY install? We can do it for you.
If you don't like to DIY, that's OK! Our professional install team is here to help. We provide check measure for $99 and installation services from $250 across Victoria, New South Wales and Queensland. Find out if installation is available in your area.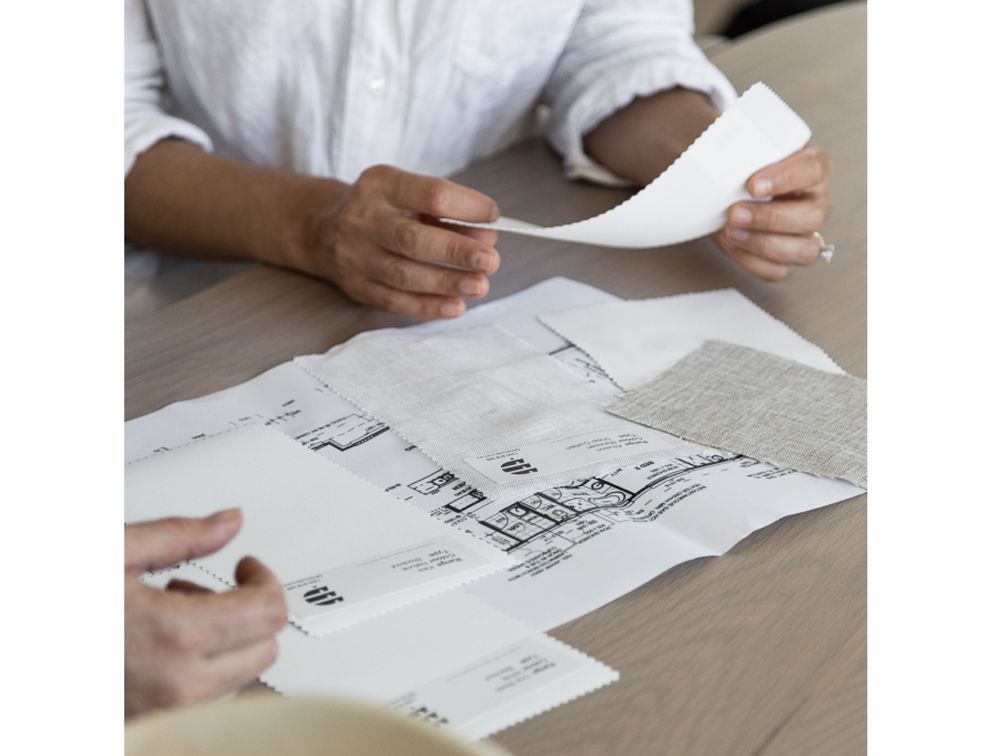 Renovating or building?
Share your house plans with us! We'd love to help design your window furnishings.
Be inspired
Browse our online showroom and download our free magazines full of great ideas for your space.
Free designer curtains magazine
Download the designer curtains magazine full of the latest trends and styles to help you find your dream look.
Frequently asked questions