The easy way to measure for roman blinds.
Welcome to our simple guide to measuring your windows for your new roman blinds. You're going to love just how quick and easy it is to measure up, so let's go!

Before you get going
Designing your dream roman blinds
The fun starts with designing how your roman blinds will fit, so channel your inner stylist and get creative! This is about finding your dream look and getting custom blinds that fit and function perfectly.
Roman blinds that sit outside the frame are called face fit
usually attached to the part of the

window frame

facing you
ideal fit for bedrooms
don't let much light in down the sides
Choose between chain driven control or traditional cord & cleat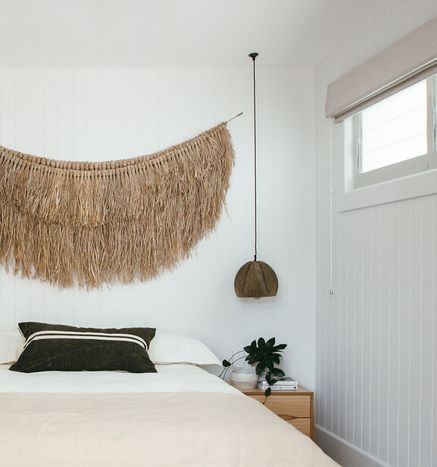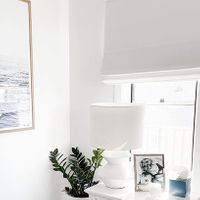 OK it's time to start measuring,
let's take it step by step.
Measuring up is easy; we just need to know three things: your width and your drop measurements, and which side you'd like your cord or chain on. Here's how to do it:
1
Measure your width
Measure the exact outside width of your window frame across the top, and write it down.
Then then add 40 mm - 100 mm each side of the architrave. This will help reduce the gap at the side of the blind, providing better light control and more privacy. This measurement will be your blind width.
Example: your window width measures 1810 mm. You'll add 200 mm, and then give us 2010 mm.
2
Measure your drop
A

Measure the height of your window frame from the top of the frame down to where you'd like the blind to finish, and write it down.

We recommend that you add 100 mm - 150 mm to the drop of the blind so you can mount the blind above the architrave. This will allow the entire window to be visible when the roman blind is fully raised, allowing for maximum light.

Example: the drop you'd like measures 1200 mm. You'll add 100 mm, and then write down 1300 mm.

B

For shorter drop window's we recommend that you take the blind 50 mm - 100 mm below the sill. Watch for any obstructions such as a desk or bed.

C

For full length windows we recommend that you measure to 20 mm off the floor. This will give enough clearance and allow the blind to have room to settle overtime. For drops over 2410mm we recommend a 30mm clearance from the floor.
3
Choose your cord or chain side
Make a note of which side you'd like your cord or chain to be on. Think about which side is easiest to reach, obstruction free and where the cord or chain will be least visible.

Our hints and tips
Want to know our top tips for measuring up like a pro?
Give us your measurements in millimetres (mm)
Double check all of your measurements before you order
Always write down 'width' and 'drop' next to your measurements, so you don't reverse them by accident!
Only give us the exact measurements we ask for. Our team custom makes your blinds to fit your windows.
They make standard deductions to account for your brackets, so you don't have to.
Measure every window. The beauty of each house is that each window may have slight variations in size,
and we want all your blinds to fit perfectly.
We know every home is unique and we're just a phone call away if you need to chat- 1300 918 390
For some extra help deciding on your perfect fit, you can email a photo of you window(s) to our team: info@diyblinds.com.au
Have a question? We're here to help
1300 918 390
Mon to Fri 8am - 6pm & Sat 10am - 3pm