Choosing how your blinds will sit against your window can be a tough and long-deliberated thought process. There are two types of installation for roller blinds: face fit or recess fit. A face fit installation is where the blind sits over the window, while a recess fit places the blind within the window frame. Recess fits and face fits each offer unique benefits including differences in aesthetics as well as how much light they can block so if you're wondering "is a recess fit or face fit best for my blinds?" the answer is "whatever you prefer!"
If you just can't reach a decision, you can now reach the ultimate compromise by choosing to incorporate both blind installation-styles into the one window with double roller blinds.
How to install blinds with a recess fit and face fit into one window
A combined recess fit and face fit installation is ideal for double roller blinds. It makes a potentially bulky installation as seamless and flat as possible, as well as providing maximum functionality. Double roller blinds are already vastly popular thanks to their ability to provide block out blinds and light filtering or sunscreen blinds on a single window, but by combining the two installation-styles, double roller blinds become not just functional but incredibly stylish as well. The most common option is to recess fit a sunscreen roller blind within the window frame, and then add a blockout roller blind with a face fit around the outside of the window. This installation style provides significant benefits.
How to order combined installation double roller blinds
For roller blinds with a combined fit you won't actually be ordering a double roller blind. Double roller blinds are two blinds on a double bracket, however, for a combined installation you need to order two separate blinds – a light filtering or sunscreen blind measured for a recess fit (link), and a blockout blind for a face fit (link). Depending on what fabrics you choose, we can have both blinds sent to you within days, ready for you to install. If you're not confident installing blinds on your own, we have videos to help and we also offer installation services.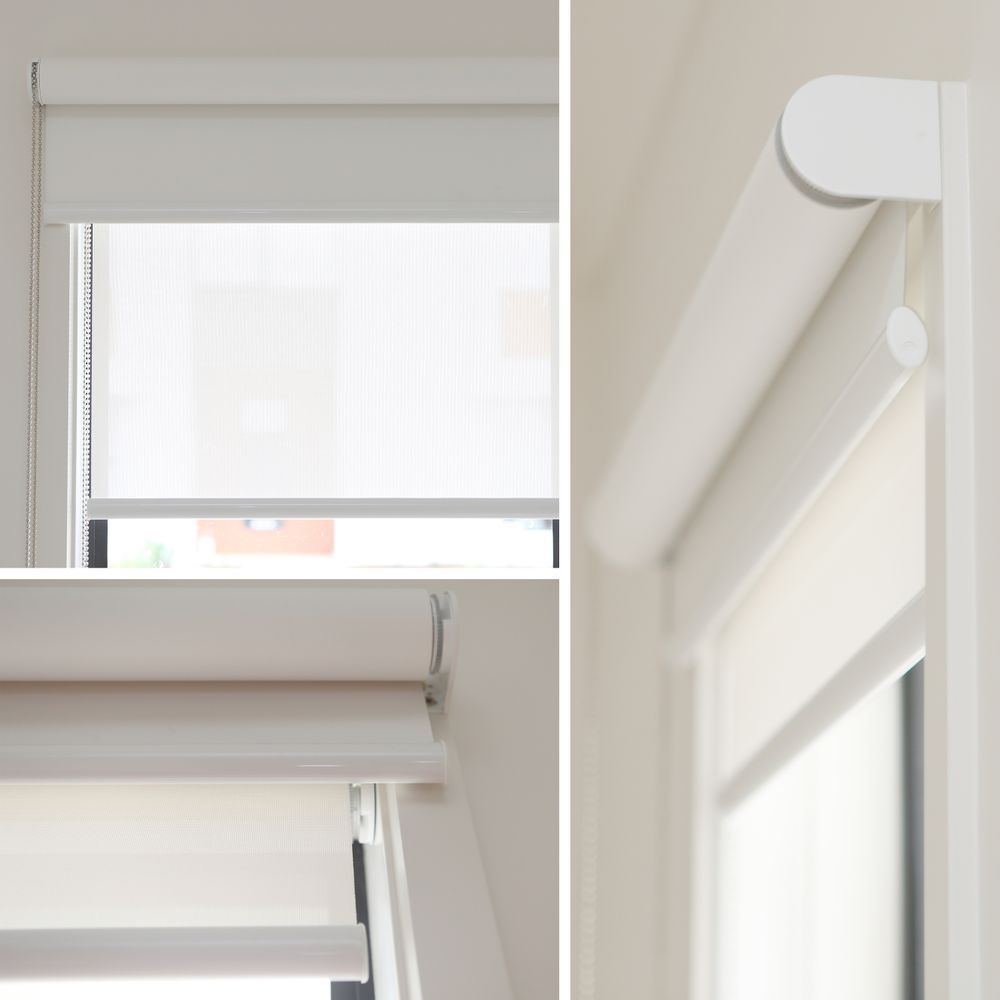 BENEFITS OF A COMBINED RECESS AND FACE FIT BLIND INSTALLATION
Neat, compact installation
While you could of course install both blinds with a face fit, if you have the option of a combined installation the end result provide a more seamless finish. This is because you've essentially halved the width of the blinds, allowing for a sleek installation. So if you've been asking "are double roller blinds bulky?", with a combined installation, the answer is a firm "no."
Added functionality and control
A combined installation also gives you all the benefits that come with double roller-blinds. Leave your recess-fitted sunscreen blind closed during the day for privacy without completely restricting natural light, then draw your blockout roller blind shut at night so you can sleep without distruptions.
Less light can get in
A face fit installation of block out blinds allows the least light to enter a room. By letting the blind rest just on top of the wall, you can completely cover the window, so that only a very small amount of light can enter compared to blinds with a recess fit which is installed within the window reveal (or niche) and may allow more light through the sides. Combined face fit and recess fit installations allow you to have the best of both worlds: functionality without sacrificing style and at DIYBlinds, you can also get it all at the best price.
Have a question? We're here to help
1300 918 390
Mon to Fri 8am - 6pm & Sat 10am - 3pm