Sliding doors and Bi-Fold doors are a great feature within the home. Pairing them with our range of linked roller blinds and sheer curtains will take them to the next level!
Linked Roller Blinds
Large full-length windows and doors are often the stars of your living area, but sliding or bifold doors can be difficult to find curtains and blinds for. If you love an indoor-outdoor lifestyle where your living areas seamlessly blend with the outdoors then your space will have large windows and doors that help combine the two spaces – but this connection to the outdoors often comes at a cost when it comes to controlling light, privacy and temperature. It's important to choose the right curtains or blinds that let you enjoy the outdoors without sacrificing functionality. Don't let your windows down by using standard blinds, at DIY Blinds we have solutions for any window including bi-fold doors and sliding doors.
What do I need to check for when choosing curtains and blinds for sliding and bi-fold doors?
Bi-fold and sliding doors have some unique requirements to take into consideration when choosing curtains and blinds. Some of the most common considerations are:
Width
If you have a full wall of windows, you'll need to furnish a large space in a smart way. At DIY Blinds, we can make curtains and linked roller blinds that are up to 6m long.

Doors
If you choose a single blind to cover multiple windows then it makes using doors difficult. Using a linked roller blind system allows you to control single or multiple linked roller blinds using the one control.
Design
Sheer curtains allow you to show off your sliding or bi-fold doors while softening your space. With linked roller blinds you can match the blinds to your door frames or mullions for the perfect look and fit.

Thankfully, sliding and bi-fold doors are no longer an issue thanks to DIY Blinds.
Best Options for Sliding and Bi-Fold Doors
Linked Roller Blinds

Linked blinds are the best solution for walls with multiple windows because they allow flexibility and provide a sleek, seamless design.
Linked blinds let you open and close doors with ease by providing each window and door with its own blind with only a 19mm gap between each blind so they match the frames of your windows and glass doors. The blinds can all be controlled by a single control too so the design is neat and tidy and eliminates unnecessary chains cluttering your windows. If you think you need additional control points, we can include these for you too.

There are almost no limitations with linked blinds – need double roller blinds? These can be installed as linked roller blinds too.

Enquire about our range of Easy Link Blinds today.


Curtains

Curtains are a great choice for extra-large windows – at DIY Blinds we provide a large range of Sheer and Blockout Curtains that can fit the largest of spaces. You can also choose to have centre opening curtains so you can easily open a door without needing to open your window furnishings all the way.

Curtains are also a great choice for older homes with slightly uneven walls or floors. Read more

Discover our range of curtains here.


Motorised Curtains and Roller Blinds

Take your windows into the future with motorised curtains and blinds. DIY Blinds can provide remote controlled blinds, including linked blinds, and you can even motorise your blinds too.
Motorised curtains and blinds let you control your window furnishings with a touch of a button – or even less; you can create schedules or routines so your blinds open and close at a certain time, or even connect them with your favourite voice assistant, like Google or Alexa, and voice control your blinds

Find out more about motorised curtains and blinds here.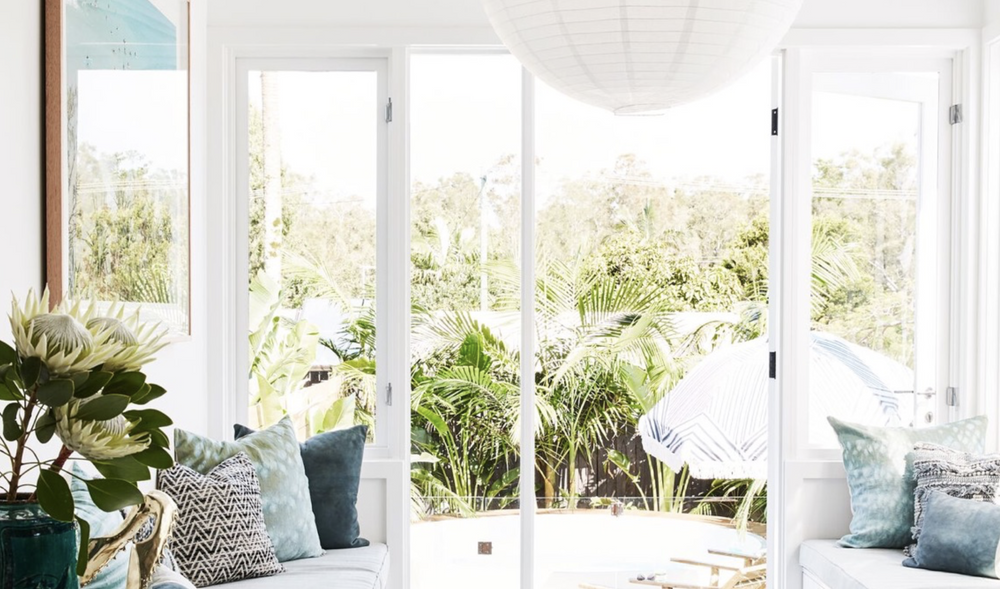 How to choose the right type of roller blind or curtain?
Now that you've seen our top window furnishing choices for sliding and bi-fold doors, here are our top things to consider when choosing any window furnishings.
Temperature and Light Control
Do you have a large window that gets direct sun? In summer things are going to get HOT! If you're looking to cool things down then look for blinds or curtains that can help keep the heat out.
Blockout blinds aren't just for keeping light out of the bedroom, they're also great for keeping the heat out of every room of the house. Not only do blockout blinds keep the heat out, but they can also stop heat escaping through the glass during winter.
If you're looking for blinds to dull bright lights and stop glare then sunscreen roller blinds are a great choice, stopping most of the harsh light but still allowing you to enjoy the outdoors. Light filtering roller blinds also let you see out to your yard but provide you with daytime privacy so people can't see in.
Prefer the chic look of curtains? We offer both block out and sheer finishes for curtains.
Privacy
Privacy and light control go hand in hand. Block out curtains and blinds offer the most protection from the elements as well as the highest privacy.
DIY Blinds have a range of privacy options including daytime privacy and full privacy with block out finishes. Don't be afraid to mix and match – a popular choice, particularly for smaller windows, is to have block out blinds with linen-look sheers over the top so you can have the best of both worlds
Functionality
When choosing blinds or curtains for your sliding or bi-fold doors it's important to consider the placement of your doors. If your doors are closer to the edge of the window then you have a great range of options because you can easily access the door by just sliding curtains easily, however with a door in the centre, you might want to consider additional breaks in the curtain.
You should also think about how often you will be opening or closing the door once the window furnishings. A single large blind might be fine if you rarely use the door, however frequent traffic areas, like the door to the BBQ, clothesline or even bin are probably going to be used more frequently and you should like for options like linked blinds that let you open the door without opening the blinds.
Have a question? We're here to help
1300 918 390
Mon to Fri 8am - 6pm & Sat 10am - 3pm