The easy way to install plantation shutters in your corner windows.
Welcome to our simple guide to installing your new, custom plantation shutters in your corner windows. Your custom kit is super easy to use, so have fun as you click, slide and lock parts together.

Before you get going
Your custom kit:
Because we know how easy it is to lose small parts, you may get a few extras in your kit.

A
B
C
D
E
F
G
H
I
J
K
L
M
N
O
P
OK it's time to start installing,
let's take it step by step.
Installing your shutters is easy and fun. Follow these 6 steps, then kick back and admire a job well done. Here's how to do it:
1
Get organised
A

Unpack your kit, and gently lay it all out on a clean, hard surface or the cardboard packaging it came in. Be careful not to scratch the parts when moving them.

B

Lay out sections of your frame, your corner post and any T posts you ordered in position. We label sections of your frame and your posts to help you assemble your frame correctly and match up your panels and hinges.

C

Lay out your shutter panels the correct way up and in order from left to right: panels are labelled to help you. Make sure your panel hinges are on the correct sides for your chosen panel layout.
2
Click your shutter frame together
A

Click the sections of your shutter frame together for your left and right windows (3 sections per window) using the Hoffmann keys in your custom kit. Feel free to use your body weight. The keys come attached to sections of your shutter frame. If they've fallen out that's OK, just slide them back in. If you're finding it difficult, it's usually because the Hoffmann keys have come out on one side.


B

Place the left and right shutter frames onto your corner post at the top and bottom so the frames meet in the middle of the post. Using your drill and the long black screws in your kit, drill through the predrilled holes to screw your frames onto the corner post at the top and bottom.


C

If you have T posts, screw them onto your shutter frame using your drill and the long black screws in your kit. There are predrilled holes on your shutter frame to show where you'll attach the T posts.
3
Drill holes in your shutter frame
A

Using your drill with the 3 mm drill bit, drill holes through the back of your shutter frame in line with each hinge.

Drill two or three evenly spaced holes through the back of the left and right shutter frames at the top and the bottom. Use three screws for larger frames. The back of the shutter frame will attach to your window frame.

4
Mount your shutter frame
A

Lift your assembled frame into place on the outside of your window frame. It can help to have two people for larger frames, so you don't bump the corners of your shutter frame.

Drill each screw at the top of your shutter frame part way in, using your drill with the Phillips head drill bit and the screws in your kit. Wiggle the frame until you get it looking level across the top. You can rest a spirit level on top of the frame while you do this.

Tighten the top screws.

B

Drill in all your side screws next, and then all your bottom screws. You can check your shutter frame is even across the top using a spirit level.
5
Attach your shutter panels and check your shutter frame
A

Remove any black bands from your hinge pins before you start. Starting from the left pick up your first panel and hold into position. The hinges should line up on your shutter frame and on your panel. Take a hinge pin and drop it through the hinge from the top. Repeat for each panel.

Hinge pin not sliding in? Check if you have panels upside down or if your frame is attached upside down.

B

Check that your panels open and close easily. As they can be heavy, it's normal if you need to lift the edge of the panel and nudge it on.

C

Check for a thin, even gap between each side of your shutter frame and your shutter panels.

Shutter panels won't stay closed? Check out the 'I need some extra help' section at the bottom.
6
Get Insta ready
A

Grab the stickers in your custom kit and stick them onto each visible screw.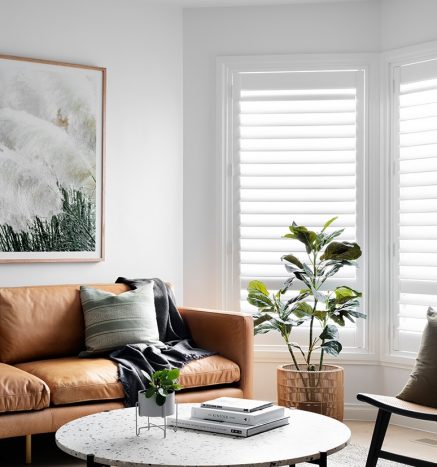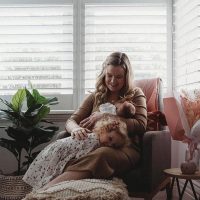 Congrats, you did it! Before you kick back and admire a job well done, don't forget to snap some photos and share your look with us. And tag us on Instagram to really make our day.
<h3I need some extra help
Have a question? We're here to help
1300 918 390
Mon to Fri 8am - 6pm & Sat 10am - 3pm