The easy way to measure for designer curtains

Welcome to our simple guide to measuring your windows for your new designer curtains. You're going to love just how quick and easy it is to measure up.
Before you get going
Designing your dream curtains
The fun starts with designing how your curtains will fit, so channel your inner stylist and get creative! This is about finding your dream look and getting custom curtains that fit and function perfectly.
curtains that hang from your ceiling are called ceiling mount:
give a sense of space and draw focus to the height of your room
curtains are best attached to

ceiling battens

great option for a

straight edge

ceiling and to fit inside

cornices

opt for a

double track

to layer curtains, and check out some gorgeous inspiration
add motorisation for effortless luxury, you can choose either wired or battery motors for your curtains
choose from 3 looks -

just off the floor

,

touching the floor

or

puddled

pick a curved, designer

track

or a simple, residential track
go for

sheers

for a soft and floaty look and

blockout

fabrics to stop all light coming in
keep it on trend with a

left stack

or

right stack

, or pick a

centre opening

for easy access to both sides of your window
get the luxe look with an

S fold

or go traditional with

pleated curtains

for larger

drops

, go for a longer

wand

or no wand at all
combine curtains with roller blinds, giving you all the options to control light and privacy
looking for something unique? Contact us about our designer curtain rods and different fabrics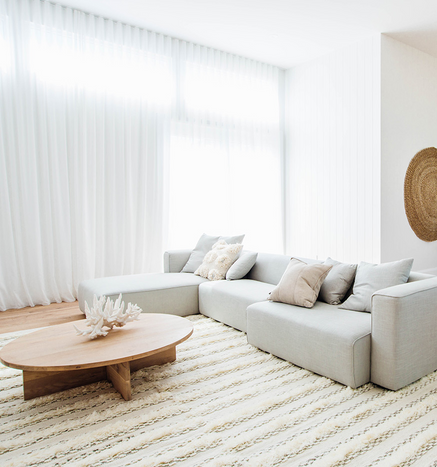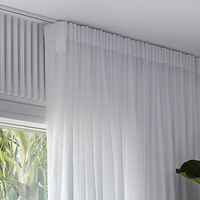 OK it's time to start measuring,
let's take it step by step.
Measuring up is easy, here's how to do it:
1
Measure your width
Measure the exact width of your ceiling from one wall to the other, and write it down. If you have cornices, you'll measure from the inside of your cornices. This measurement will be your track width.
Don't worry about measuring how much fabric you need, we'll take care of that for you based on your track width.
2
Measure your drop
Measure from your ceiling down to the floor on the left side, middle and right side. If you have cornices, you'll measure from the inside of your cornice. Write down the largest of all three.
Go for puddling if your 3 measurements have a greater than 10 mm difference.
3
Choose your look
For curtains just off the floor, the largest measurement you took will be your curtain drop.
For curtains touching the floor, add 5 mm to the largest measurement. This measurement will be your curtain drop.
For curtains to puddle, add between 20 to 50 mm to the largest measurement. This measurement will be your curtain drop. The more mm you add, the more fabric you'll have puddled on the floor. Yep, it's that easy. Once you order, we'll take care of everything else so that your curtains hang perfectly.
4
Choose your wand and how your curtains open
Note down which wand you want. It sounds obvious, but the larger your drop, the larger your wand needs to be so you can reach it.
Also note down whether you want left stack, right stack, or centre opening curtains. Think about which side is easiest to reach, obstruction free and which part of your window you'll want to open often. If you're adding motorisation your motor will sit on your stack side and for centre opening curtains you'll need to choose which side your motor is on. We'll make sure your motor fits, you don't need to alter the measurements you took.
5
Order your custom curtains online
You're all set to order your curtains!
If you want to order a double track, call us and we'll make it happen.
If you order motorised curtains with a wired motor we'll mail out your cables straight away so you can get your electrician to start wiring.
Design & order
Our hints and tips
Want to know our top tips for measuring up like a pro?
Give us your measurements in millimetres (mm)
Double check all of your measurements before you order
Always write down 'width' and 'drop' next to your measurements, so you don't reverse them by accident!
Only give us the exact measurements we ask for. Our team custom makes your curtains to fit your windows.
They make standard deductions to your drop to account for your chosen look and tracks, so you don't have to.
Measure every window. The beauty of each house is that each window may have slight variations in size,
and we want all your curtains to fit perfectly.
We know every home is unique and we're just a phone call away if you need to chat- 1300 918 390
For help deciding on a mount, you can email a photo of you window(s) to our team: info@diyblinds.com.au